The aims of the Community Garden Project;
o    provide produce to local supermarket thus reducing the miles incurred in transport resulting in being more environmentally friendly and economical;
o   provide employment opportunities in horticulture;
o   provide access to affordable fresh fruit and vegetables for those vulnerable and on low income in our community;
o   provide access to training for community members such as parents (particularly 1st time and/or young parents)  in many disciplines e.g. cooking easy, simple nutritious meals with produce from the garden – these classes will encompass a plethora of workshops aimed at enhancing parenting skills etc.
o   provide support to local trade training centre through supply of fresh produce to compliment training in hospitality (so as to enhance culinary skills of students).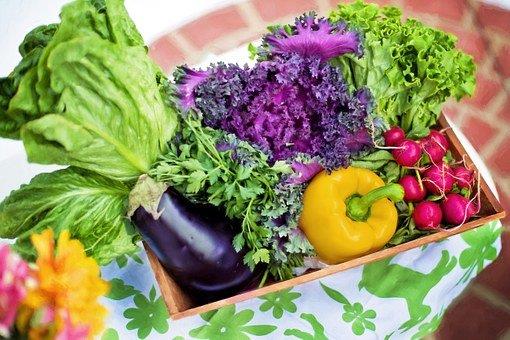 On Friday the 11th August, the THRIVE Community Garden held a free lunch and hosted the Scarecrow Competition.
The scarecrows look great and will hopefully keep away the pesky birds to protect our fresh produce!
The winners were:
The other awesome scarecrows: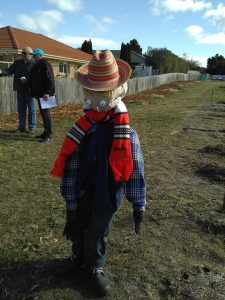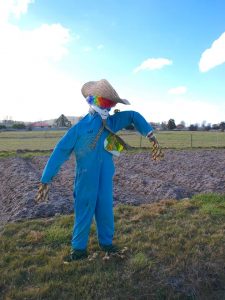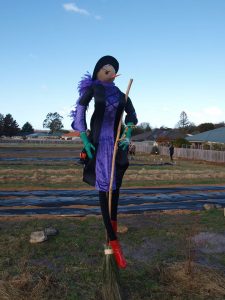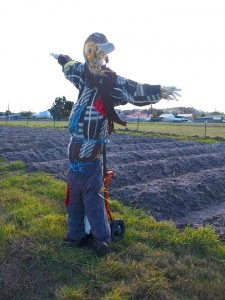 Starting Off - (Article from our Newletter)
In our last newsletter we wrote about our exciting news that our local Council had made the following decision:- "That Council allow THRIVE to utilise the parcel of land named up on the Break O'Day Council Health Precinct plan as community space for the purpose of a social enterprise project – Community Garden." This project forms part of a Break O'Day Community Initiative program named THRIVE (Transforming Health Relationships Innovation Vocation and Education) and is a partnership between St Helens Neighbourhood House, Break O'Day Council, St Helens District High School and St Helens Literacy Services.
We celebrated the launch with a special bbq and an award ceremony to acknowledge the hard work of our garden volunteers. We can't thank the following volunteers enough—David, Shane, Tye, Tyrone, Marty and Jonathan—for their tireless efforts and hard work in erecting boundary fence, preparing the site/soil and connecting the pipework to mains water. The support from you—our amazing community—has been tremendous. We are so grateful for the goodwill we have received. For example without people like Anthony Tolley and Randal Wilson providing their diggers and tractors to get the works started our volunteers would still be digging the ground for the fencing foundations!! Behind the scenes we have a committee made up of local people and service providers who meet regularly to plan the garden and prioritise what needs to happen next. These meetings are so inspiring as everyone gets to have a say, share their knowledge and the enthusiasm is infectious. Peter Cundall and the team from ABC radio talkback did a wonderful promo of our garden which has brought more people calling to the House to put their hands up to volunteer and be part of the project. The more the merrier we say! Our aim is to sell produce to local supermarkets (costs and transport miles are reduced and its better for the environment) create employment and volunteering opportunities in horticulture; make sure that those on low income in our community have access to affordable fresh fruit and vegetables and share skills and knowledge.
We have been so fortunate with donations and grants. Last week Break O'Day Council generously gave us a community grant of $5000. We plan on buying raised garden beds so that community members unable to work on ground beds can be part of the project. We now have a garden shed on site also.
Huge welcome to Shane Cubitt (pictured centre below) who is employed as our Community Garden Supervisor. Shane is on site weekdays Tuesday, Wednesday & Thursday from 8.30 am til 5pm. If you are interested in finding out more about the garden chat to either Shane or Trish on 6376 1134 or email toduffy@sthelensnhh.org.au