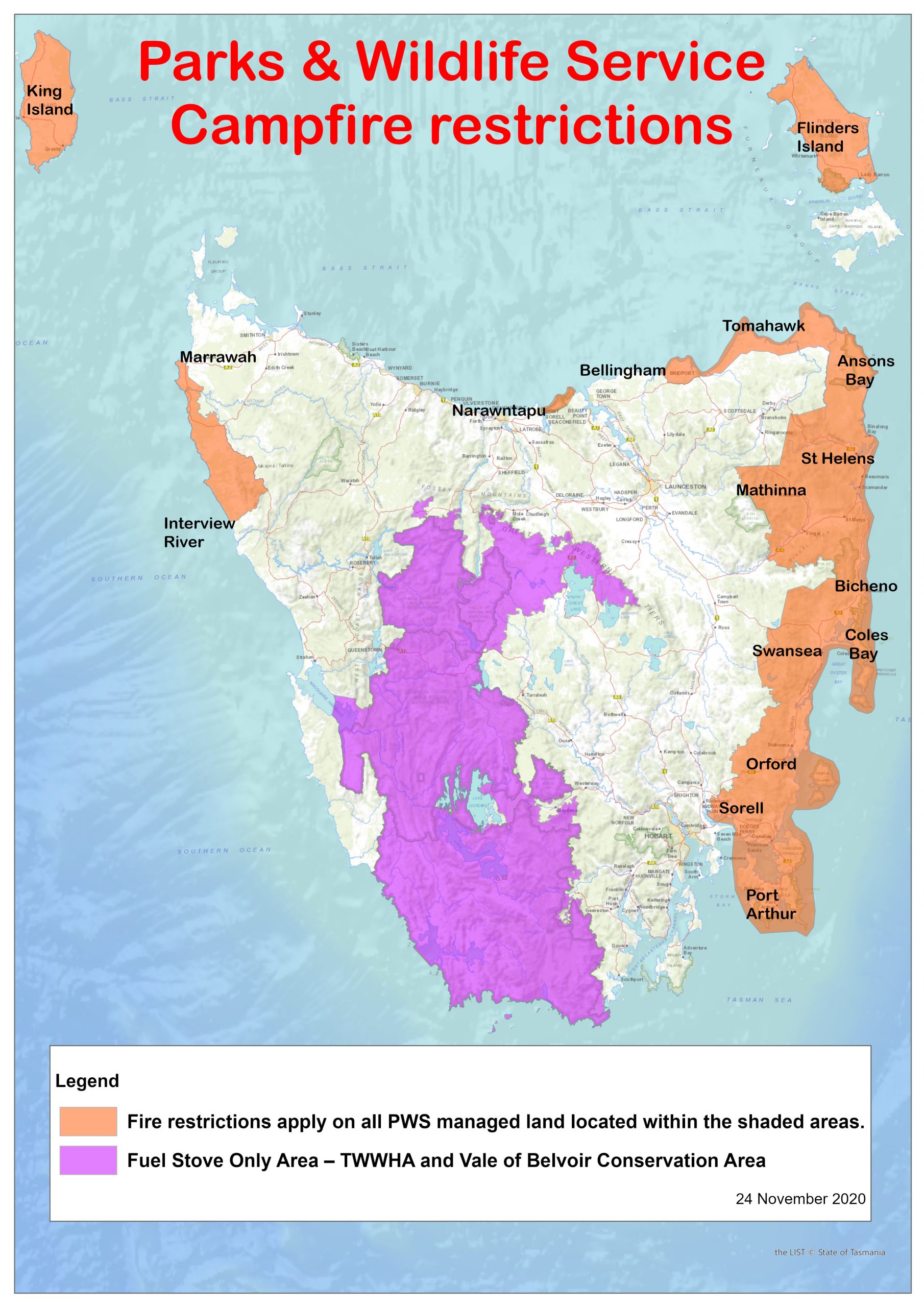 Parks and Wildlife Service : Campfire Restrictions
Restrictions on campfires, pot fires and other solid fuel stoves will come in to place from Friday 4th December at identified Parks and Wildlife Service (PWS) campgrounds around the State to help reduce the risk of bushfires. These restrictions are important to help protect visitors and the community.
Despite the recent rain, there is still considerable fire risk in the north-west and on the eastern side of Tasmania with no significant forecasted rain in the Bureau of Meteorology extended outlook. Spring pasture growth is significant in a number of areas and as the grass cures the areas assessed as currently having normal fire potential is likely to change.
In the current dry conditions, campfires can easily escape, spread rapidly are difficult to control and threaten people in campgrounds and nearby communities.
The seasonal campfire restrictions apply to national parks and reserves in the following areas:
King, Flinders and Maria Islands,
between West Point and Interview River in the north-west,
Dorset, Break O'Day, Glamorgan/Spring Bay, Sorell and Tasman municipalities,
Narawntapu National Park,
Snaky Creek and Tooms Lake Conservation Areas.
Refer to the attached map.  Further areas may be added if the fire risk in those areas escalates during summer.
Gas stoves and gas barbecues will be permitted.
Last year there were 110 reports of unattended or illegal campfires on PWS managed land with 140 fire offences recorded - this was a 50% increase in reports from the previous year.
Restrictions have also been imposed on the use of pot fires as sparks, embers and disposal of ash from pot fires can also provide an ignition source.
To communicate the restrictions to the public, the PWS will place public notices in the three main newspapers on Wednesday 2nd December and Saturday 5th December, along with posts on social media and our PWS internet site; signage will also be installed at each fire restriction location.
The PWS wants to ensure everyone has a safe and enjoyable camping experience and appreciate assistance from the community in complying with fire restrictions.
See the new Parks and Wildlife Service Campfire safety and restrictions web pages for further details:
https://parks.tas.gov.au/explore-our-parks/know-before-you-go/campfires-and-fire-restrictions/fire-restrictions